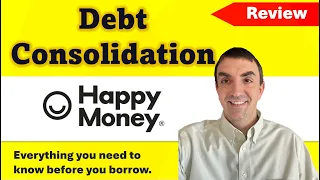 Happy Money offers debt consolidation loans from $5000 to $40,000. They call it "The Payoff Loan". That's a clever bit of marketing. In this video I'm going to tell you more about Happy Money and give you the information you need to decide if a Happy Money "Payoff Loan" is a good decision for you.
About Happy Money
Let's start with the complicated part.  Happy Money is not actually a lender. They are a financial services platform.  Their platform connects credit unions and other lenders to people in need of a debt consolidation loan. Often these lenders have no way of directly finding the borrowers like you that they are looking for. Happy Money says they are customer focused, customer centric and pride themselves on being transparent. This looks to be true.  They provide more details about their lending processes than any lender I've ever seen.  That impresses me.  
As I said earlier, Happy Money connects credit unions to people like us who need a little boost in getting out from under credit card debt. The list of 8 large credit unions they work with include Alliant, Blue Federal Credit Union, and Teachers Federal credit union. But they also work with other credit unions and community focused lenders. This is important because since the loans are made by credit unions, they have to follow credit union requirements. Including a lower maximum interest rate than most other institutions, but I'll talk more about that later.
Happy Money also has great reviews from pretty much every source. Now often these customer reviews focus on how easy or difficult it is to get a loan with limited detail on the loan repayment process. However, I think it's good to know they are viewed favorably by their customers.
How much can I borrow from Happy Money?
Happy Money offers debt consolidation loans between $5,000 and $40,000. The minimum loan is slightly higher in a couple of states due to state laws. $5,000 is a lot of money, but this is really probably the minimum most people would need to make a debt consolidation loan a worthwhile effort. Their loan terms range from 2 to 5 years, which is good for loans of this size. But don't take 5 years on a $5000 loan and be careful signing up for 2 years on a $40,000 loan.
How much does a Happy Money Debt Consolidation loan cost?
Let's start by looking at the fees for their loans. Happy Money charges an origination fee of 0% to 5%. Which is pretty standard. And the fee will vary by the size of the loan, so you will probably see the fee change as you change the loan amount. Typically the percentage of the origination fee will be lower on higher dollar loans. Don't worry I'm not going to bore you with the details of why, but suffice it to say, it makes the economics work for the lender.
Let's look at some examples. If they offer you a $5000 loan with an origination fee 5% then you will receive $4,750 in your bank or paid directly to your credit cards. The remaining $250 is the fee and is kept as payment. You will have to pay back $5,000 plus interest.
Happy Money and their lenders do not charge ANY other fees for their loans. No late fees, no NSF fees, no processing fees and most importantly, no pre-payment fees. This is a plus for them in my book. It means they are doing their best to be transparent and fair.
The interest rate on Happy Money loan isn't advertised on its own but the total APR will range from 11.75% up to 24.81%. This upper limit of the interest rate is lower than most lenders since they work with Credit Unions and not banks.  But the minimum APR is higher than most.  That tells me that people with Excellent Credit, a FICO above 760, can probably find a lower rate by shopping around.  But from 640 to 760, they may be a great place to get a loan.  That brings us getting approved for a loan.
Who can get a Happy Money debt consolidation loan?
Let's start with the application. First, Happy Money uses a soft credit check system, so applying will not impact your credit. They will issue a hard inquiry if you take a loan. This means a check for approval with them if you're shopping around is a good idea.
As to get who can get approved, Happy Money is much more transparent about this than most. Before I get into the details, first I will say that these are minimum requirements. Meeting them does not guarantee that you will be approved.
A FICO credit score of 640 or higher.
No delinquencies on our credit accounts. This means all of your accounts are currently in good standing. Having a missed payment in the past does not prevent you from getting a loan with them. But if you are currently past due, you will need to bring the account or accounts current and wait for that to be reflected in your credit report before applying.
They look at other core credit factors such as age of credit history, your credit card utilization rates, and your payment history on all of your open accounts.
Your debt to income ratio. They are also going to compare your debt to your income to ensure that you will be able to make your payments.
Will a Happy Money debt consolidation loan really improve my credit score by 40 points?
This is a nice statement that Happy Money shares, and it's possible that taking the loan and consolidating your debts will improve your score.  Here's the facts.  First, the 40 points is an average based on customers who took a loan with them during a few months in 2021.  Credit scoring hasn't changed since then, so this average is relevant.  BUT… this change isn't unique to Happy Money.  It's true for any Debt Consolidation loan. It happens because the loan creates a large drop in credit card utilization which is a large factor in your credit score.  So don't chose Happy Money based on this fact. 
If you're considering a debt consolidation loan to reduce your interest payments and help you payoff your debt faster then you should shop around. Saving money is your goal and that means you need to find the best loan available.
At the Yukon Project, we've made this simple for you by bringing over 40 lenders into our platform in one application! Then our 40 plus lenders will review your application, with no impact to your credit score, and send back their best offers for you. Then you can compare the offers, choose the one best suited to your needs, and rest easy knowing you got the best loan available. 
When is a debt consolidation loan a good idea? 
Credit card and debt consolidation loans can be great help in the right circumstances. But when used wrongly, they can make the problem worse. Here's what you need to do before you take a debt consolidation loan.
First, you need to consider your overall financial situation. Do you have a budget or money management plan in place to ensure that you can pay all of your monthly expenses plus the loan payment, without adding any new credit card debt? This is important because a lot of people do fall into this trap. You clear up the credit cards with a loan. But then add new debt back to the cards. This just leaves you with double the debt so you have to be careful!
Second, consider carefully the debts you want to consolidate. If you have low interest debts or debts when there's less than 1 year remaining until they're paid off, you may not want to include these. You don't want to increase your interest burden. You also don't want to add years to a debt you have almost paid off.
Lastly, you need to figure out how much you need.  Now there's a couple of factors to this.  It's easiest to explain with an example.
Figuring out how much you need to borrow
Let's say you have 3 debts you want to consolidate.  A $4000 credit card with 29% interest, a $5000 credit card with 24% interest, and a $6000 credit card with 19% Interest.  There's a total of $15,000 in credit card debt.  But the interest rates vary. 
Let's suppose your offered $20,000 at 14% interest. Don't take $20,000. That's $5000 more than you need and $5000 extra debt to pay off. Only accept $15,000!!
What if you're offered $15,000 at 20% interest? Don't take $15,000. That would mean you're paying an extra 1% interest on the $6,000 credit card debt. Take $9,000 at 20%, pay off the higher cards with the loan. And continue paying the 19% Credit card directly.
Final Thoughts on Happy Money and the Payoff Loan for debt consolidation
Personally, I think Happy Money is a good lending platform. They have the right things in place to help customers. While I will always recommend applying with at least 3 lenders with soft credit pulls only, Happy Money is definitely one I would put on the list.